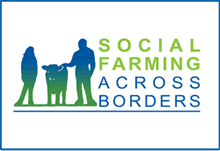 Under The Spotlight
GROWING CONNECTIONS, CHANGING LIVES Insights and Learning From Social Farming Across Ireland
A National Conference on Social Farming took place in the Emmaus Centre in Swords Co. Dublin last Friday, the 23rd of March. 140 attendees from all over Ireland learnt more about the development of s
Read More
SoFAB features on RTE's Nationwide
The SoFAB Project featured on RTE Nationwide on FRIDAY 29th November @ 7pm.
Nationwide is an hour long programme that airs Monday Wednesdays and Fridays on RTE which brings Irish viewers an eclectic round-up of news, views and events from around the country.
The film was completed on two of our farms one in Leitrim and one in Fermanagh in early September 2013.