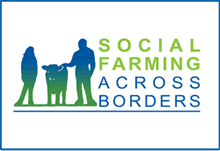 Under The Spotlight
GROWING CONNECTIONS, CHANGING LIVES Insights and Learning From Social Farming Across Ireland
A National Conference on Social Farming took place in the Emmaus Centre in Swords Co. Dublin last Friday, the 23rd of March. 140 attendees from all over Ireland learnt more about the development of s
Read More
Social Farming Conference almost booked out.
Social Farming: opportunities for an ordinary life
'Social Farming' , widely practiced across Europe, provides services to people with a range of disability or mental health support needs, through people recovering from addiction to youth at risk and people in later life. Social Farming is an opportunity for farm families to offer people that use support services the chance to experience farming and rural life.
The Irish health and social care sector has provided agriculture/horticulture activities on an 'in-house' basis in institutional settings for many years. Change in thinking about how services are delivered, largely led by asking people about their future wishes, has been a significant player in reshaping support services. People want 'an ordinary life' one with roles and contribution within community. Across the island, there are farm families that can provide such a service in a healthy outdoor environment, without having to artificially create a service setting to provide this choice of life. Farmers have ties and connections through their social, business and cultural roles within their communities. The combination of these roles describes a relationship which is both 'social' and 'farming'. A Social Farming in Co. Roscommon describes the kitchen table and the Stanley range or 'hearth' as often being as important as the outdoor work. Without doubt the particular history of a family farm, its rootedness in its community, its future vision with the additions and changes each year brings are features which are tangible and cannot be replicated by a service setting.
Social Farming has generated interest across the country in recent years with the establishment of the Social Farming Community of Practice Group, from this group the idea of developing a project to establish Social Farming on the island of Ireland emerged. The Social Farming Across Borders Project (SoFAB for short) is a 3-year project to establish Social Farming in Ireland. It is funded by the European Regional Development Fund through the INTERREG IVA Programme and led by the School of Agriculture & Food Science, University College Dublin in partnership with Queen's University Belfast and Leitrim Development Company. The SoFAB Project has established piloting of Social Farms on 10 farms in the Border Counties of the Republic of Ireland and 10 farms in Northern Ireland.
The SoFAB project's first conference 'Living an Ordinary Life' will take place on Wednesday the 12th of June in Carrick-on-Shannon, Co. Leitrim. The aim of this conference is to focus attention on the practical realities of Social Farming. To share experiences from the SoFAB project and bring together farmers from Flanders, the UK and Ireland to discuss their experience of Social Farming. A highlight of the conference will be the keynote address from Dr Tony Bates of Headstrong. This 'Living an Ordinary Life' conference, will be of interest to farm families, farming and rural community interests, health and social care professionals, people who avail of services and their representative bodies, statutory and voluntary service provider agencies.
There is no charge for attending the conference however booking is essential as numbers are strictly limited.
Click on any of the images below to view the full size image in a gallery