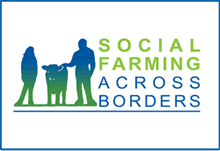 Under The Spotlight
GROWING CONNECTIONS, CHANGING LIVES Insights and Learning From Social Farming Across Ireland
A National Conference on Social Farming took place in the Emmaus Centre in Swords Co. Dublin last Friday, the 23rd of March. 140 attendees from all over Ireland learnt more about the development of s
Read More
Project Launch a great success
Agriculture and Rural Development Minister Michelle O'Neill MLA alongside Minister of State Fergus O'Dowd jointly launched a new cross border Social Farming initiative.
The 'Social Farming Across Borders' (SoFAB) project will link the health care and agriculture sectors to establish a novel social support service for people that use health and social services. As host to the launch at Loughry College in Cookstown Minister O'Neill warmly welcomed Fergus O'Dowd TD, saying
"Our respective Departments recognise and support the potential of this innovative cross border project. We understand how experiencing farming at first hand, combined with physical activity has been shown to help a broad range of vulnerable people suffering from mental health problems, physical and learning disabilities and drug or alcohol addiction."
She added "Social Farming is particularly relevant to my department on two counts. It complements our work on tackling rural poverty and social isolation while also providing an opportunity for farmers to generate additional income by developing a Social Farming enterprise."
Minister O'Dowd further added his recommendation to farmers and farm families across the Region to take the time to consider the potential benefits of Social Farming to their business and local community. He said,
"The Social Farming project has been awarded funding of almost €700,000 from the European Union's Interreg IVA Programme. My department welcomes the targeting social inclusion through this initiative. The development of Across Borders Social Farming network further enables farmers and those involved in health and social care services to engage and develop the provision of Social Farming in the cross border region and Northern Ireland.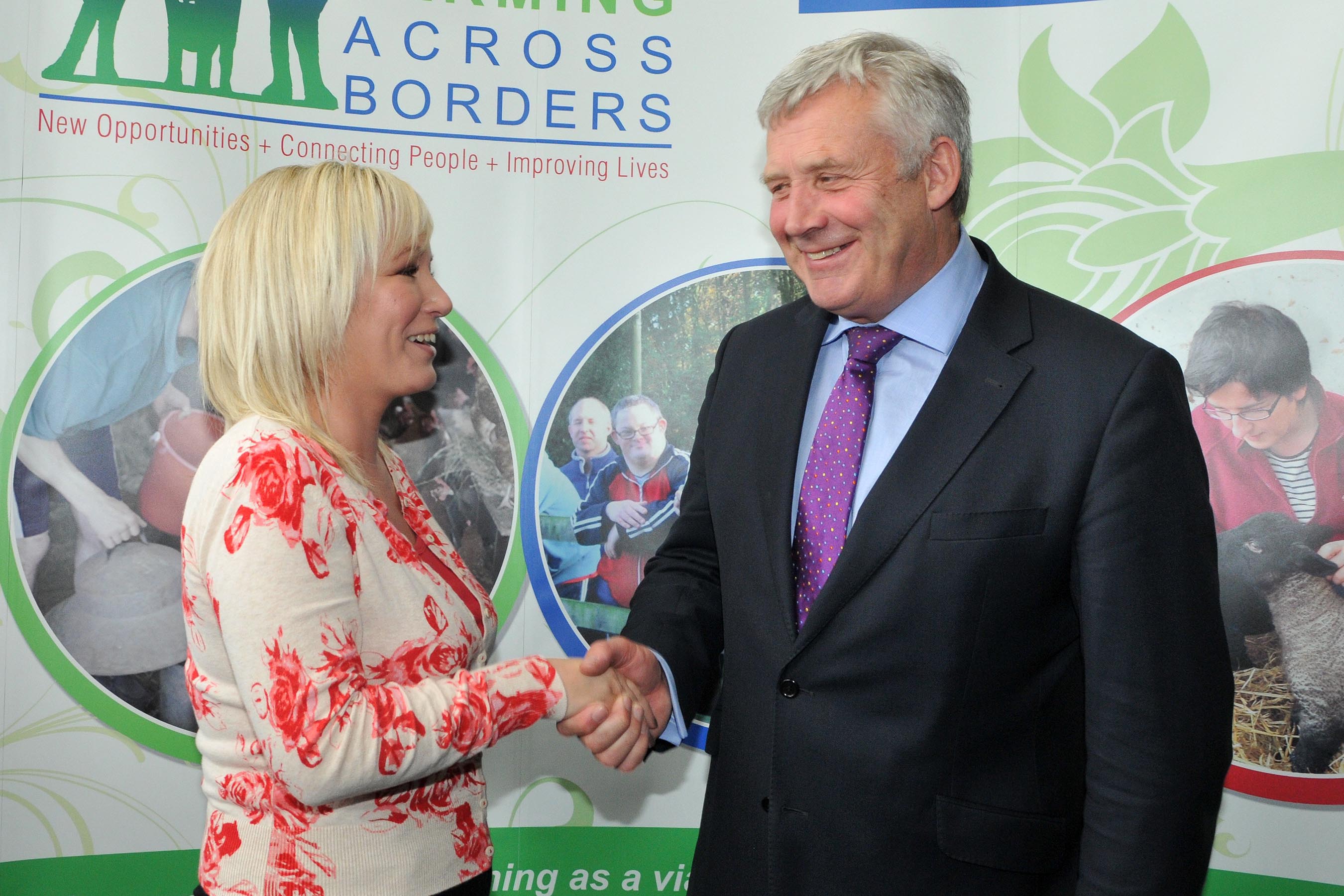 Pat Colgan Speaker from SEUPB also welcomed the project by saying:
"Social Farming is an innovative project and one which the SEUPB is delighted to be supporting. It addresses one of the core objectives of the INTERREG IVA Programme to contribute to a more sustainable cross-border region. Upon completion, this project will have helped build capacity among service providers and through its pilot programme it will gather crucial information on how best to implement this new concept of service delivery in the eligible area."
Representatives from the farming and health sectors heard from a number of speakers, including Gaynor Tate from Care Farming UK and Richard Nicol of West Midlands Care Farming and Paul Henry of the Community of Practice Group.
During the next two years, the Social Farming Across Borders project, which has been jointly developed by University College Dublin, Queen's University of Belfast, Leitrim Development Company and DARD's College of Agriculture, Food and Rural Enterprise (CAFRE) will establish twenty demonstration social farms and a cross border network of farmers, health care professionals and people that use services.
Larry Masterson Donegal, Minister Michelle O'Neill, Claire Leonard President of Downs Syndrome Ireland, Minister Fergus O'Dowd, Par Colgan SEUPB, Mary B. Harte HSE Donegal, Patrick McBrearty Bluestacks Foundation Donegal.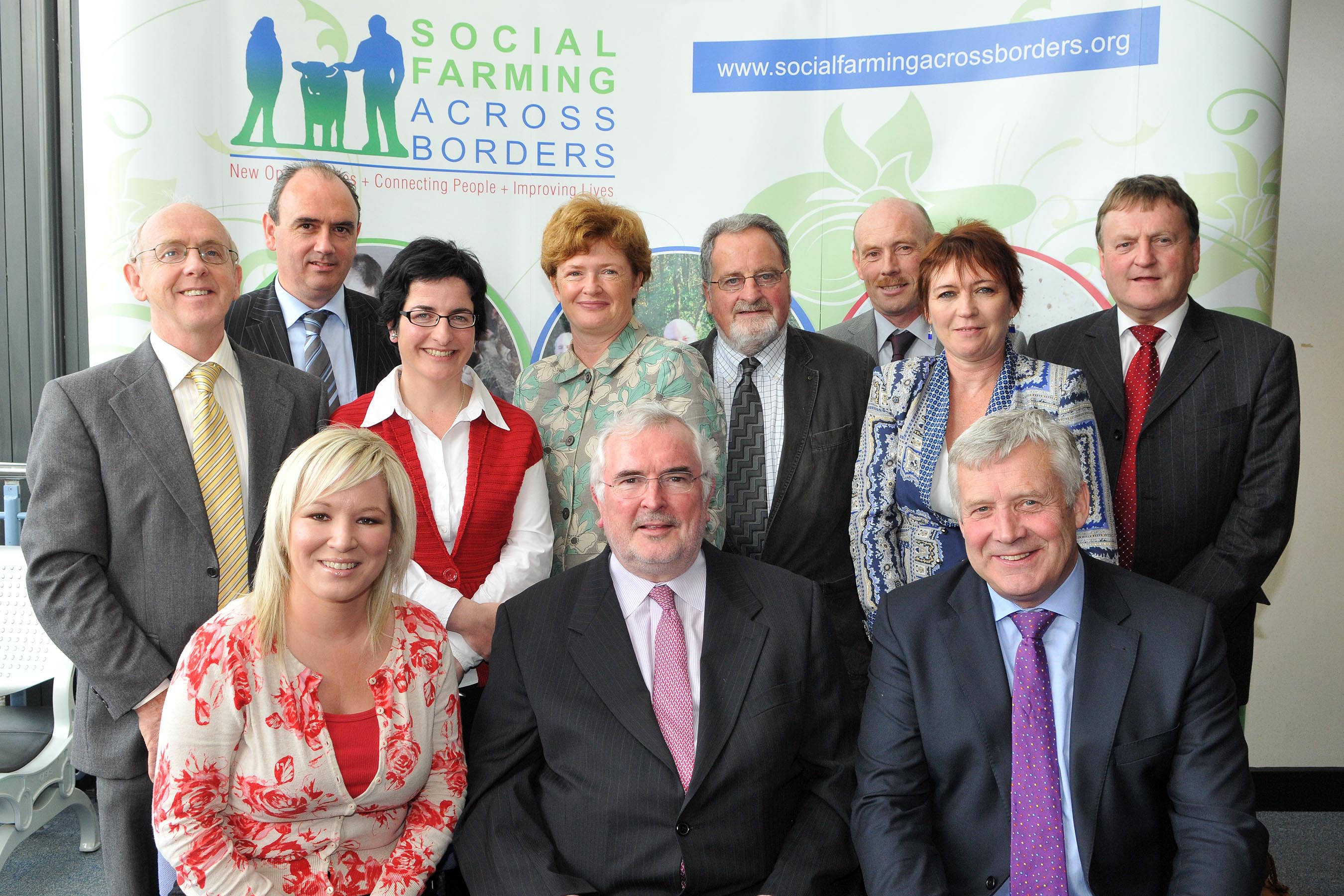 Back row l to r - Roy Nelson Queens University Belfast, Brian Smyth Leitrim Development Company, Aideen McGloin UCD, Deirdre O'Connor UCD, Tom Lavin Leitrim Development Company, Jim Kinsella University College Dublin, Jude Stephens Queens University Belfast, James O'Boyle Department of Agriculture Northern Ireland.
Front Row l to r - Minister Michelle O'Neill, Department of Agriculture and Rural Development NI, Pat Colgan SEUPB, Minister Fergus O'Dowd. Minister of State Communication, Energy & Natural Resources and Environment, Community & Local Government (ROI)
Click on any of the images below to view the full size image in a gallery