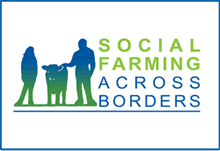 Under The Spotlight
GROWING CONNECTIONS, CHANGING LIVES Insights and Learning From Social Farming Across Ireland
A National Conference on Social Farming took place in the Emmaus Centre in Swords Co. Dublin last Friday, the 23rd of March. 140 attendees from all over Ireland learnt more about the development of s
Read More
Next Network Meetings at Letterkenny & Dundalk
Upcoming Network meetings will be a valuable opportunity for all those interested in Social Farming to hear about our progress to date and the Piloting experience and to discuss the future of Social Farming. Venues Letterkenny & Dundalk.
Meetings open to all but you must book via email to helen@ldco.ie
Just publised our Newsletter - it is available under the Networks tab!
Click on any of the images below to view the full size image in a gallery