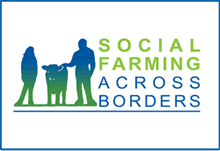 Under The Spotlight
GROWING CONNECTIONS, CHANGING LIVES Insights and Learning From Social Farming Across Ireland
A National Conference on Social Farming took place in the Emmaus Centre in Swords Co. Dublin last Friday, the 23rd of March. 140 attendees from all over Ireland learnt more about the development of s
Read More
Network Meetings 4 & 5
SoFAB Network Event - 2 Venues
Venue 1: The Mount Errigal Hotel, Letterkenny, Co Donegal
Date: 27th September @ 8pm
Venue 2: The Fairways Hotel, Dundalk, Co Louth
Date: 4th October @ 8pm
Meeting Outline:
Open to all our Network - Half of our participating Pilots present at each venue on the evening.
Outline of this meeting -
· Welcome from the SoFAB Team.
· Contributions from two Pilots on the Piloting experience so far.
· Networking - how we can develop a sustainable network, local networking based around Pilots.
· Contributing to the formation of the next Rural Development Program.
· Update on planned project events for Autumn-Winter 2013/2014.
Free event but BOOKING ESSENTIAL - email helen@ldco.ie