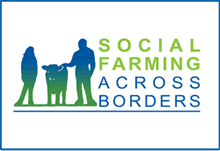 Under The Spotlight
GROWING CONNECTIONS, CHANGING LIVES Insights and Learning From Social Farming Across Ireland
A National Conference on Social Farming took place in the Emmaus Centre in Swords Co. Dublin last Friday, the 23rd of March. 140 attendees from all over Ireland learnt more about the development of s
Read More
Farm Open Days 2014
Our Pilot Farmers are hosting Open days on their Farms so those interested in Social Farming can visit a farm and meet others including the SoFAB team and the Farmer and see what Social Farming looks like in action.
There will be a number of days coming up in 2014 - we have two scheduled for January with others such as Harrington's in Cavan to follow in February.
Attached is a flyer with some information on those days planned. If you wish to receive directions please email helen@ldoc.ie in January.
Looking forward to meeting you there.
Click on any of the images below to view the full size image in a gallery