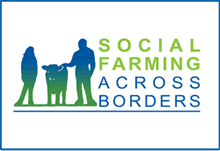 Under The Spotlight
GROWING CONNECTIONS, CHANGING LIVES Insights and Learning From Social Farming Across Ireland
A National Conference on Social Farming took place in the Emmaus Centre in Swords Co. Dublin last Friday, the 23rd of March. 140 attendees from all over Ireland learnt more about the development of s
Read More
SoFAB seeks 20 Pilots
Social Farming Across Borders Seeks Pilot Farms.
Following a Summer of meeting farmers and other community partners from across the health and social care services on both sides of the border the SoFAB project are taking the next steps towards getting people 'out on to farms'. The social farming concept has had significant success in other parts of Europe. It provides a valued response to people with a range of additional support needs who wish to partake in life on 'a real farm. Many people wishing to link to farming and rural lifestyle have come from such backgrounds or are urban people seeking new outdoor opportunities, new skills and friendships.
The project is currently inviting farm families to apply for consideration as 'pilot farms', and aims to have around two farms per county operating in 2013. Each farm will offer 'a day a week' for 30 weeks during 2013 with an average of three people attending each farm. Farmers selected will be supported in a working partnership with a health provider and will receive training and a small grant towards meeting environmental health, safety and welfare requirements.
A further key activity is the establishment of a 'SoFAB Network' within the region. The first two network meetings in Enniskillen and Armagh (November 8th and 12th respectively) had a strong attendance and generated interest and commitment from farmers and the other partners. The network will be wider than just the ten farms North and South and is intended to give a ground up lead to the project with a view to supporting the continued growth of practice into the future.
Application forms and further information are available under the PILOTS tab in our website or from the Project Office at Leitrim Development Company, Drumshanbo 071-9641772.
Click on any of the images below to view the full size image in a gallery