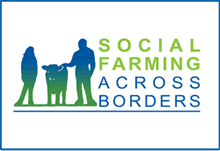 Under The Spotlight
GROWING CONNECTIONS, CHANGING LIVES Insights and Learning From Social Farming Across Ireland
A National Conference on Social Farming took place in the Emmaus Centre in Swords Co. Dublin last Friday, the 23rd of March. 140 attendees from all over Ireland learnt more about the development of s
Read More
Social Farming Conference a great success.
At the recent Social Farming Across Borders Conference held at the Landmark Hotel Carrick on Shannon, where over 150 delegates from the Agriculture, Rural Development and Healthcare sectors participated in this day-long event.
Pictured at the recent Conference.
A Group of enthuasiastic Social farnming participants.
Speakers from the Event:
Dr Jim Kinsella UCD, Dr Roy Nelson Queens University Belfast, Richard Nicol Care Farming West Midlands UK, Aideen McGloin UCD, Phillip Lane Social Farmer UK, Rita Deschrijver Social Farmer Belgium, Willem Rombaut Social Farming Association Belgium, Teresa Peacock HSE West, Tony Bates Headstrong, Tom Lavin CEO Leitrim Development Company, Brian Smyth Leitrim Development Company.
Click on any of the images below to view the full size image in a gallery